Coach Breaks 2017/2018
There's nothing quite like a coach holiday for a relaxed, hassle free break. The chance to sit back and look out as the world passes by your window, the journey an integral part of the holiday itself.
Whether you're sightseeing around the UK or looking to head into Europe we have a trip just for you. Coach holidays come in all forms and varieties. Tours around the UK and Ireland, a chance to take in the tea-rooms, to kiss the Blarney stone or revel in the great outdoors of the Scottish Highlands. Or maybe a tour into Europe and a chance to savour the stunning alpine scenery of Austria and Switzerland or indulge in the delights of the old historic cities of central Europe. You may of course be looking to simply enjoy the novelty of a hot summer's eve in the sultry south.
Coach Breaks.com, in partnership with many of the main tour operators in the UK can offer first class tours throughout Britain, Ireland and continental Europe. Ranging from day trips to the races, the theatre or Christmas shopping excursions to longer guided tours that allow you to experience the delights of new places, spectacular scenery and new cultures to more specific coach holidays that may take in historic sites or battlefields, EuroDisney or trips to special events such as the Military Tattoo in Edinburgh.
So, if you're looking for a coach tour this year, whatever your reason, your preference or personal taste then drop us a line.. Our team of consultants will be delighted to help and ensure you find the coach holiday of your choice.

Featured Coach Holidays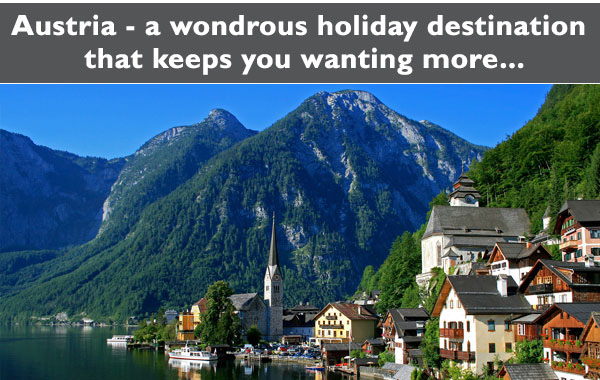 Austria was the very first holiday destination for Leger, way back in 1983! With breathtaking mountain scenery, idyllic landscapes, modern European cities and charming villages, it's easy to see why it's still as popular as ever with our clients, with many returning year after year.

You'll fall in love with the wondrous delights of Vienna and the Danube. Then there's sightseeing galore in Salzburg and Innsbruck. Plus, delightful rail rides through the Ziller Valley and spectacular mountain scenery.

Join us and uncover Austria's hidden gems on a fully escorted tour...
Magical Cologne & Aachen
4 Days From £219pp
Cologne features six different markets whilst Aachen is famous for its traditional cakes and pastries fresh from the oven.
Cologne & The Rhine
4 Days From £349pp
Combine a visit to the scenic Rhine Valley with a Christmas markets experience to remember in the cathedral-city of Cologne.
Book Your Coach Break Online Today