Keukenhof & the Dutch Bulbfields 2019

A must on any 'bouquet' list, this collection of short breaks features some very impressive floral displays. From the Dutch Bulbfields in Holland to the the Floralia Spring flower show in Belgium - we've got the pick of the bunch! Discover flourishing flower shows and the blooming delights of Europe this spring, with our collection of Flower and Garden Short Breaks.
The Netherlands' love affair with tulips has been going strong for centuries. Billions of them burst into bloom every April, blanketing parks, fields and gardens in a rainbow's worth of colours. Our favourite place to see them? Keukenhof Gardens.
Nicknamed the 'Garden of Europe', Keukenhof is absolutely spectacular in the springtime, with row upon row of brightly coloured tulips, woodland paths bordered by hyacinths and daffodils, and winding streams flecked with fallen blossom petals.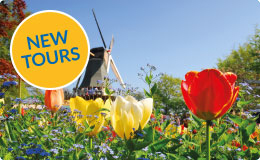 We've created two tours for 2018: Steaming Through the Bulbfields combines the bulbfields with a scenic steam railway journey and the Dutch Bulbfields & Gouda includes a visit to Gouda, plus the chance to sample its famous cheese.

Bulbfields Tours

Dutch Bulbfields & Amsterdam
4/5 Days From £299
Combine a visit to Holland's capital city with a visit to the fabulous horticultural displays of the world famous Keukenhof Park.

Floralia Flower Show
5 Days From £409
Enjoy an unforgettable flower experience. The park, which is approximately 14 hectares in size, incorporates many spring bulb varieties.

Dutch Bulbfields Cruise
4/5 Days From £399
Enjoy a leisurely cruise on the Dutch Waterways combined with the splendours of Holland's blooming bulbfields.
£99pp deposit on Dutch cruises
As any horticulturalist knows, autumn is the time to get those tulip bulbs in the ground.
While we're busy popping a dozen-odd into our patio borders, the green-fingered gurus at Keukenhof Gardens in the Netherlands are hand-planting millions of bulbs in preparation for 2019.
Getting everything ready now means they'll be all set to burst into bloom come spring. If a whirl around these world-famous gardens is on your wishlist for next year, now's the ideal time for you to get all set too – especially as you can take advantage of our special low-deposit offer. Book your Dutch Waterways sailing on MS Bellejour or MS Serenade 1 by 16 November and you'll only need to pay £99 deposit per person*.
Each cruise includes our award-winning VIP door-to-door travel service (so your holiday starts the moment you leave home) and entry into Keukenhof Gardens. Three-quarters of sailings have no single supplement, too, so they're perfect if you're thinking of travelling on your own.
Experience Keukenhof's colours for yourself
We include visits to Keukenhof Gardens on four of our exclusive Dutch Waterways river cruises. You could team the tulips with historic Dutch cities and fishing towns, or combine the Netherlands with a few days in Belgium. Every sailing includes our VIP door-to-door travel service and return ferry or Eurotunnel crossings (or flights from your local airport*, if you'd rather), plus no single supplements for solo travellers.
After exploring Amsterdam, you'll set sail for a 7-night cruise, touring the Royal Delft Factory, pretty Veere and canal-laced Dordrecht along the way.
8 days from £999 per person
This 5-night mini-cruise also includes trips to Zaanse Schans windmill village and Amsterdam, where you'll enjoy a tour and canal cruise.
6 days from £999 per person
Enjoy a talk on tulips from our guest speaker, plus explore historic cities like Enkhuizen, Rotterdam and the Dutch capital.
8 days from £999 per person
As well as windmills and waterways, this voyage includes Antwerp, Ghent and Bruges (with plenty of time to sample Belgian beer and chocolate in each).
8 days from £1,399 per person
Our ships
Discover MS Bellejour - comfortable, convenient and carefree cruising
For the first time in 2019, we're chartering MS Bellejour exclusively for our customers for the season. She's been designed to really make the most of those spectacular river views; cabins come with extra-large porthole windows or French balconies; the lounge/bar and restaurant both feature floor-to-ceiling windows; and there's a spacious sun deck with wraparound views.

Discover MS Serenade 1 - your home from home on the water
MS Serenade 1 is our original river cruise ship - she's been welcoming Titan guests on board since 2017. We recently treated her to a makeover, adding plush new furnishings, beautiful artwork and stylish design touches. Cabins are especially spacious by river cruise standards (bathrooms even come with separate showers and bathtubs), and with a lounge/bar, mini-gym, sauna and large sun deck, there's plenty of room to relax.