Keukenhof & the Dutch Bulbfields 2018

A must on any 'bouquet' list, this collection of short breaks features some very impressive floral displays. From the Dutch Bulbfields in Holland to the the Floralia Spring flower show in Belgium - we've got the pick of the bunch! Discover flourishing flower shows and the blooming delights of Europe this spring, with our collection of Flower and Garden Short Breaks.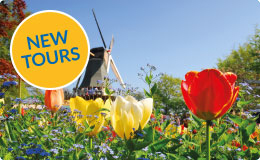 We've created two tours for 2018: Steaming Through the Bulbfields combines the bulbfields with a scenic steam railway journey and the Dutch Bulbfields & Gouda includes a visit to Gouda, plus the chance to sample its famous cheese.

Bulbfields Tours

Dutch Bulbfields & Amsterdam
4/5 Days From £299
Combine a visit to Holland's capital city with a visit to the fabulous horticultural displays of the world famous Keukenhof Park.

Floralia Flower Show
5 Days From £409
Enjoy an unforgettable flower experience. The park, which is approximately 14 hectares in size, incorporates many spring bulb varieties.

Dutch Bulbfields Cruise
4/5 Days From £399
Enjoy a leisurely cruise on the Dutch Waterways combined with the splendours of Holland's blooming bulbfields.