Coach Breaks 2018/2019
There's nothing quite like a coach holiday for a relaxed, hassle free break. The chance to sit back and look out as the world passes by your window, the journey an integral part of the holiday itself.
Whether you're sightseeing around the UK or looking to head into Europe we have a trip just for you. Coach holidays come in all forms and varieties. Tours around the UK and Ireland, a chance to take in the tea-rooms, to kiss the Blarney stone or revel in the great outdoors of the Scottish Highlands. Or maybe a tour into Europe and a chance to savour the stunning alpine scenery of Austria and Switzerland or indulge in the delights of the old historic cities of central Europe. You may of course be looking to simply enjoy the novelty of a hot summer's eve in the sultry south.
Coach Breaks.com, in partnership with many of the main tour operators in the UK can offer first class tours throughout Britain, Ireland and continental Europe. Ranging from day trips to the races, the theatre or Christmas shopping excursions to longer guided tours that allow you to experience the delights of new places, spectacular scenery and new cultures to more specific coach holidays that may take in historic sites or battlefields, EuroDisney or trips to special events such as the Military Tattoo in Edinburgh.
So, if you're looking for a coach tour this year, whatever your reason, your preference or personal taste then drop us a line.. Our team of consultants will be delighted to help and ensure you find the coach holiday of your choice.
Coach Holiday Deals
Weekly Deals From Leger Holidays
| | | | | |
| --- | --- | --- | --- | --- |
| Dep Date | Tour Name | Sell £ | Save | Now |
| 12/02/2018 | | £ 569.00 | £ 20.00 | £ 549.00 |
| 05/03/2018 | | £ 589.00 | £ 20.00 | £ 569.00 |
| 15/03/2018 | | £ 589.00 | £ 20.00 | £ 569.00 |
Do not miss out on two fantastic codes available at Just Go! Holidays.
Code: AEU18
From: 28/12/2017
Until: 21/01/2018
T&C's: Only valid on coach that feature within our European Holidays 2018 brochure. Air holidays and Supervalue range products are not included
Code: AUKIRL18
From: 28/12/2017
Until: 21/01/2018
T&C's:Only valid on coach that feature within our UK & Ireland Holidays 2018 brochure. Air holidays and Supervalue range products are not included
JustGo! Holidays now have various 2018 Breaks available.
10 Days from just £695:
10 Days from just £725:
10 Days from just £925: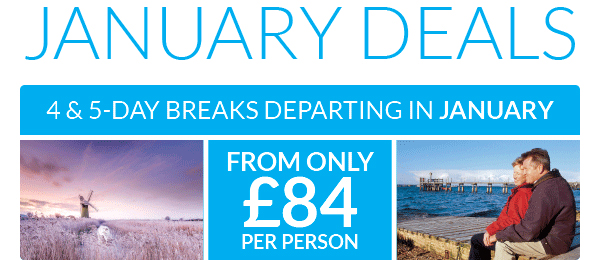 Treat yourself to a post-Christmas pick-me-up with our amazing January deals!
Choose from four-day weekend breaks and five-day midweek breaks to welcoming hotels in the UK's best resorts. You'll enjoy superb meals, excellent entertainment, fascinating excursions and terrific company all from as little as £84pp.

There's so much to enjoy in January, so book today and you'll be wishing the festive season away!


Featured Coach Holidays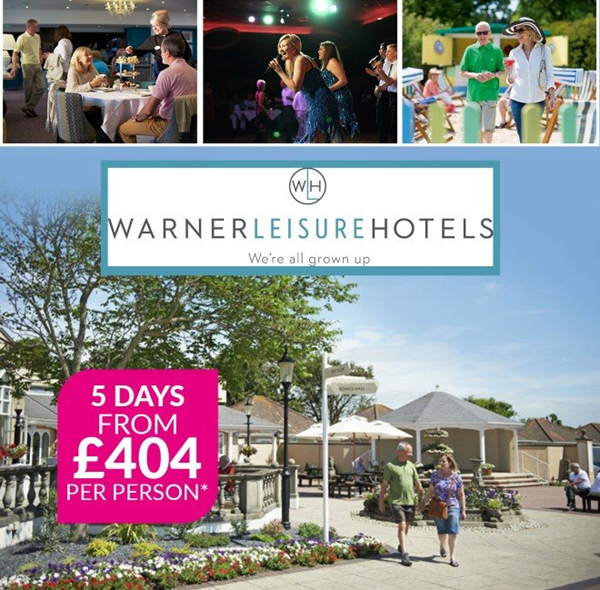 Book one of our brand new Warner Entertainment Breaks for 2018, with accommodation at adult-only Warner Leisure Hotels plus fantastic live entertainment every night, and a headline Saturday night act.
Enjoy the ideal surroundings at Warner Leisure Hotels, each with its own unique atmosphere and appeal, as well as fantastic entertainment such as Abba Tribute Acts, live Soul & Motown music nights and special acts still to be announced.

Our collection of 4 day weekend breaks allow you to stay in the comfort of a Warner Hotel and enjoy three nights of dazzling entertainment, plus the headline entertainment act on Saturday night!

Join us in 2018 and discover the best of Britain. With our range of award winning coach holidays we have so many brilliant British experiences to choose from, such as the chance to indulge in delectable Devonshire cream teas, world-famous flower shows, F1 racing at the British Grand Prix and much more.
Enjoy travel on our luxury coaches with over 800 pickup points nationwide, specially selected accommodation plus meals and excursions included in most holidays.
Book your 2018 break now for the best prices, with savings up to £100 per couple.

Browse below our selection of the best UK holidays for 2018 and book now with low deposits from £45 per person, plus no credit card fees!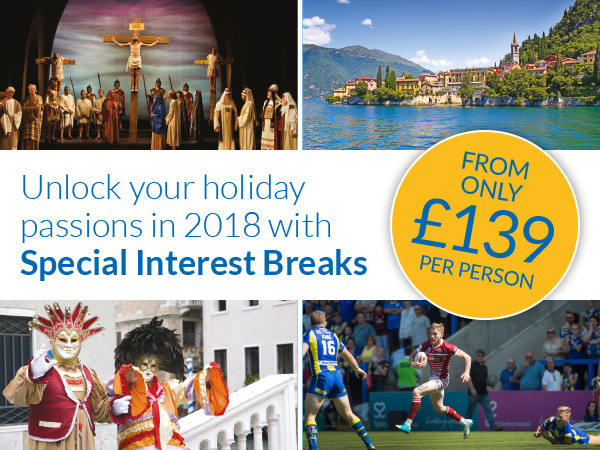 Our fascinating Special Interest tours give you the chance to indulge your favourite passions, or perhaps to discover new ones you never knew you had. We're proud to offer an exclusive selection of breaks and tours allowing you to experience something different, or go to a bucket list event.
Maybe you're an amateur botanist waiting to burst into bloom or a secret adrenaline junkie who has an unexplored need for speed. We have events ranging from flower shows and bulbfields tours across the UK and Europe to thrilling Grand Prix events and many more.
Our full range of special interest tours also include breaks including tickets to live shows, holidays to Italy to experience the awe-inspiring Venice Carnival and even tours to Australia to see Wigan Warriors tour New South Wales.
Well, the Saturday night fun of Strictly Come Dancing may be over for another year following tonight's spectacular final, but with Shearings, you only have to wait until next month to see more glitz and glamour from some of your favourite judges and dancing stars!
We've created show-stopping two-day coach breaks including tickets to Strictly Come Dancing: The Live Tour 2018 in Birmingham. You can choose from joining points on two North West routes, two Yorkshire routes and a South East route. So dust off your sequins and book this brilliant break today from only £139 per person…
Treat yourself to something a little bit different with our spectacular Special Event short breaks, available now from selected pick up points across the UK.
These great value two and three-day breaks give you the opportunity to enjoy truly unique experiences, with included entry to some of the UK's most special events, such as fantastic floral events, sensational sports and TV favourites. Join us and create memories you'll treasure forever!

This week, we're delighted to bring you our very latest selection of last-minute deals.
There's such amazing value on offer, such as four-day UK Weekend Plus breaks, including four FREE drinks vouchers per person, from just £90pp or five-day Coast & Country Breaks in the heart of Windermere from £140pp including two excursions.
Or why not head a little further with European late deals including stunning breaks to the Black Forest, Lake Como and Spain.
Don't forget, we include a range of travel options, welcoming accommodation, traditional full cooked breakfasts, delicious evening meals, excursions and over 800 local pick up points on most holidays.
Or why not give yourself something to look forward to in 2018 with one of our award-winning holidays? We have some brand new tours available including a special trip to one of Europe's most popular tourist attractions, Disneyland® Paris.
If you haven't already chosen your holidays for 2018, we'd like to offer you a little inspiration: We have so many amazing holiday experiences for you to choose from, such as the chance to experience some of the most picturesque areas of the UK including Windermere, attend some of the best loved events and attractions in the UK including the Strictly Come Dancing Live Tour and the chance to see the historic Terracotta Warriors!
Or how about exploring Europe this year and the charming lakeside setting of Lake Como? And if you wish to tick a few destinations off your bucket list in 2018, we can also take you on a variety of Worldwide tours. Book your 2018 break now for the best prices, with savings up to £100 per couple.
Now a new year is upon us, we're already looking forward to the warmer climes of spring and, for this week's Top Offers, we've got a fantastic selection of superb holiday experiences for 2018.
Our spring holidays are expertly planned to help you make the most of the pleasant mild climate and bright, vibrant colours of this glorious time of year!
Book today and treat yourself to your perfect getaway.
Alternatively, why not venture further afield in 2018 with one of our fascinating Worldwide tours? Choose from exciting tours in places such as Canada, Australia and Africa and save 15% on the tour price if you book before 13th January 2018...
In 2018, we're making our holidays even better value for money. You could secure a holiday with low deposits from just £45 per person.
Whenever you want to get away, there'll be a Shearings holiday to suit you. If you're after a quick getaway, our last-minute escapes are just the thing, departing within the next eight weeks! Or why not make this Easter "egg-stra" special, with a four-day Easter Break departing on Good Friday? A relaxing Spring Break gives you the chance to enjoy the wonders of nature at their most splendid, with beautiful flowers bursting into bloom – the ideal time to visit Holland! And, of course, you won't want to miss out on your summer holiday, perhaps you'll sun yourself on a Spanish beach or enjoy a nostalgic holiday to a Great British seaside resort.
These are popular times of the year to travel so we'd encourage you to book now to avoid disappointment and for the best prices.
Make 2018 your year...
In February, holidays with Shearings are all about offering you unbeatable value and giving you the perfect excuse to treat yourself to a getaway.
You could enjoy a four day weekend break from as little as £94pp (and that includes four free drinks vouchers and entertainment on Saturday evening!)
Or head off to enjoy some winter sun and enjoy All Inclusive value on the Spanish beaches of Lloret de Mar or by Italy's majestic Lake Como.

Such amazing value on offer this February if you book now.
There's no time like the present to book your holidays for this year and enjoy real value with Shearings!
Across our wide selection of UK and European holidays, we've lowered our prices for 2018, compared to the equivalent price offered in 2017. See below some inspirational holiday ideas including all-inclusive escapes to stunning Lake Como and the golden Spanish beaches of Salou, as well as European River Cruises and UK coach breaks all offering you exceptional value for money!
We look forward to welcoming you very soon!
Get a great deal on your next holiday. Book today...
Travel through spectacular scenery to sought after destinations, on our unique state-of-the-art, comfortable coaches. For extra luxury and extra legroom, you can upgrade to Silver Service which features a relaxing rear lounge, ideal for getting to know your fellow travellers. Or, upgrade to Luxuria which offers even more personal space and at-seat interactive T.V Screens!


Remarkable Grand Explorer Holidays
We know that visiting a multitude of places, some of which are a little out of the ordinary, can be a bit daunting to arrange and visit independently. That's why, our expertly planned itineraries take care of everything, whilst bringing you some of the most fascinating, amazing and extraordinary experiences!
Book Your Coach Break Online Today