Bognor Regis Coach Breaks 2021/2022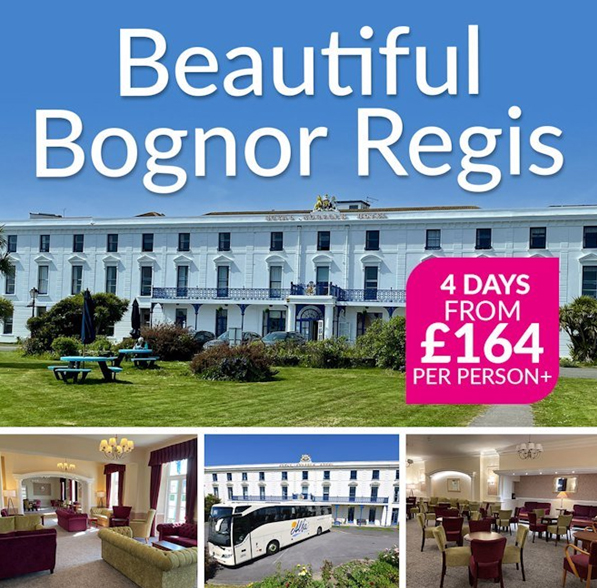 Boasting the highest recorded number of hours of sunshine in Britain for a seaside resort, beautiful Bognor Regis is the perfect location for your next holiday. One of England's oldest resorts, its long, flat seafront is ideal for a leisurely stroll along the prom - ice cream in hand!
There is so much to explore in this pretty coastal town. Its many quintessentially English seafront cafes, bars and pubs offer a relaxing atmosphere. Whilst the splendour of the South Downs, England's newest National Park, is also close to hand.
An old-school seaside resort where the sea laps the shore of the pebbly beach, with large expanses of sand revealed at low tide.
Bognor Regis Coach Holidays

Enjoy A Stay At Our Royal Norfolk Hotel

Situated in a delightfully sunny spot on Bognor Regis seafront, our Leisureplex Royal Norfolk Hotel has extensive lawns and superb Channel views. Our Leisureplex Royal Norfolk Hotel is just a short walk from the pier and shops, making it the perfect base for your holiday.
Excursion Highlights

Worthing & Amberley
Worthing Museum has a wonderful art gallery, sculpture garden, studio gallery, costume collection, toy collection and archeological finds. We then go on to visit the Amberley Museum & Heritage Centre where a selection of traditional crafts are demonstrated.
Chichester Cathedral
We visit the historic city of Chichester with its fine cathedral, Georgian houses and ancient city walls. The Cathedral hosts a pair of Peregrine falcons. Then back in time we go to Fishbourne - to visit its magnificent 1st century Roman Palace.
Book Your Coach Break Online Today