Super Saver Breaks 2022/2023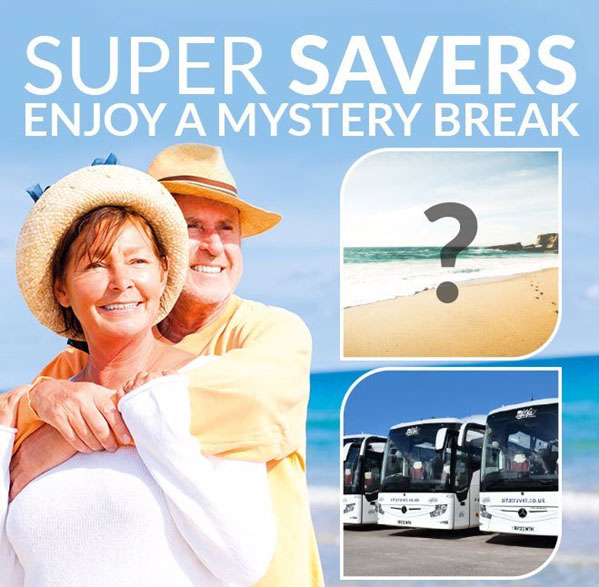 BOOK A SUPER SAVER BREAK
LET US DECIDE WHERE YOU GO NEXT!
Our great value for money Super Saver Breaks are perfect for those of you that like an adventure and enjoy exploring different places with the added mystery of letting us surprise you with our choice of destination!
If you're spoilt for choice on which destination to visit next and you LOVE our Leisureplex Hotels, why not try one of our Super Saver holidays? The added mystery of letting us surprise you with our choice of resort is all part of the fun! Plus, no matter where you end up going, you'll still be guaranteed to receive the same standards of service that you have come to expect.
Part of the fun is not knowing where you will be going!
With more destinations to choose from than ever before, there really has been no better time to book one of these fantastic holidays. Why not let us take the stress out of deciding where to go next?
HOW DOES IT WORK?
1. Choose A Date
Choose the date on which you wish to travel and the length of holiday you want. There are various durations to choose from. These unique breaks are available in 4, 5, 7 and 8 day durations, so there's something for everyone!
2. Book Your Holiday
You can book your holiday online or over the phone with our friendly reservations team.
We then send you a confirmation showing the date, duration and cost of your holiday and a provisional seat reservation. Your destination remains a mystery!
3. We choose For You
14 days prior to departure, we choose the destination for your holiday and send you a new confirmation showing the holiday we have chosen for you including the seat you have been allocated. Then all that's left to do is enjoy your holiday with us!



Web Discounts Available!
Get further discounts on selected tours if you book online with us.
SUPER SAVERS INCLUDE
- Accommodation, dinner & breakfast
- Entertainment most evenings in Leisureplex Hotels
- Wi-Fi throughout our Leisureplex Hotels
- Great hotels in great locations
- rated Leisureplex Hotels or carefully selected partner hotels
- Excursions at NO EXTRA CHARGE
- Return coach travel from a local convenient pick up points
- NO ADDITIONAL CHARGE for local pick up points

Book Your Super Saver Break Online Today