Switzerland Coach Breaks 2022/2023
A country of outstanding natural beauty, with its rolling hills and picturesque scenery Switzerland really is the perfect place to unwind and relax on your next holiday all year round.
Visit the country during the summer months and spend your time exploring plush green forests and idyllic crystal clear lakes. In the winter months you can gaze at the beautiful snow-capped Alps and wander through quaint villages filled with shops selling traditional Swiss cheese and luxurious chocolates. For an experience to remember, why not visit this stunning country during the festive period? You can enjoy your Christmas break surrounded by snow filled streets and enjoy a ride on the famous Glacier Express taking in spectacular mountain forests and Alpine meadows.
Switzerland Coach Holidays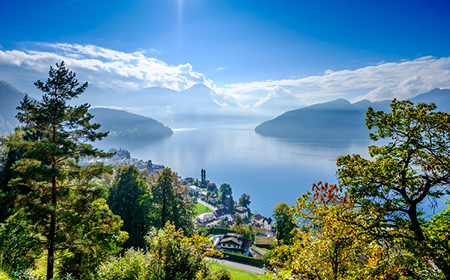 From the 3,000m summit of Gornergrat to the idyllic shores of Lake Maggiore, this Switzerland tour's spectacular highlights make 'grand' a fitting title. You'll take several amazing journeys on funicular, cogwheel and regional trains to get a true sense of the country and its unforgettable panoramas.
9 days from £2,999 per person
Tour Includes Flights
Book Your Coach Break Online Today