Amalfi Coast Coach Breaks 2022/2023
The Amalfi coast is one of Europe's most glamorous, romantic and photo-genic destinations which you can experience with National Holidays.
Named by UNESCO as an outstanding example of a Mediterranean landscape, the 50km stretch from Sorrento to Salerno along the Amalfi Coast is characterised by pastel-colour villages clinging to steep mountains and hillsides, spilling with citrus grows and olive vines, which plunge vertically into the sea to create knockout views.
A favourite with coach visitors is enchanting Amalfi, a delightful fishing town. Get lost in the town's maze of cobbled streets and piazzas before climbing the grand staircase to the marble Romanesque Cathedral of St Andrew.
Positano is equally idyllic and seductive with colourful buildings cascading down the cliffs. Join the fashionable crowds including famous film stars and celebrities attracted by its stunning beach and picture-postcard setting.
Meanwhile in Ravello, immerse yourself in the beauty which inspired Wagner to compose his opera Parsifal in 1880, as well as artists and writers such as Turner and Virginia Woolf. Dazzle your senses in the gardens of Villa Cimbrone and Villa Ravello, and admire the town's 11th-century cathedral.
The gateway to the Amalfi, Sorrento, is also a super-stylish with designer boutique shops and cafes galore lining the Piazza Tasso, whilst you can enjoy the best views of the Bay of Naples here.
The region is also the ideal base to explore the lost city of Pompeii and neighbouring island of Capri.
The beauty of the Amalfi Coast is best admired from a gravity-defying drive, aptly named the 'road of a thousand bends'. With National Holidays you can experience the breath-taking vista from the comfort of your seat on an air-conditioned coach with panoramic windows.
Aside from the stupendous views, the Amalfi Coast is also gastronomic delight, where you can indulge in fresh seafood and homemade pasta dishes, whilst every meal must be complemented by a shot of local limoncello.
Amalfi Coast Coach Holidays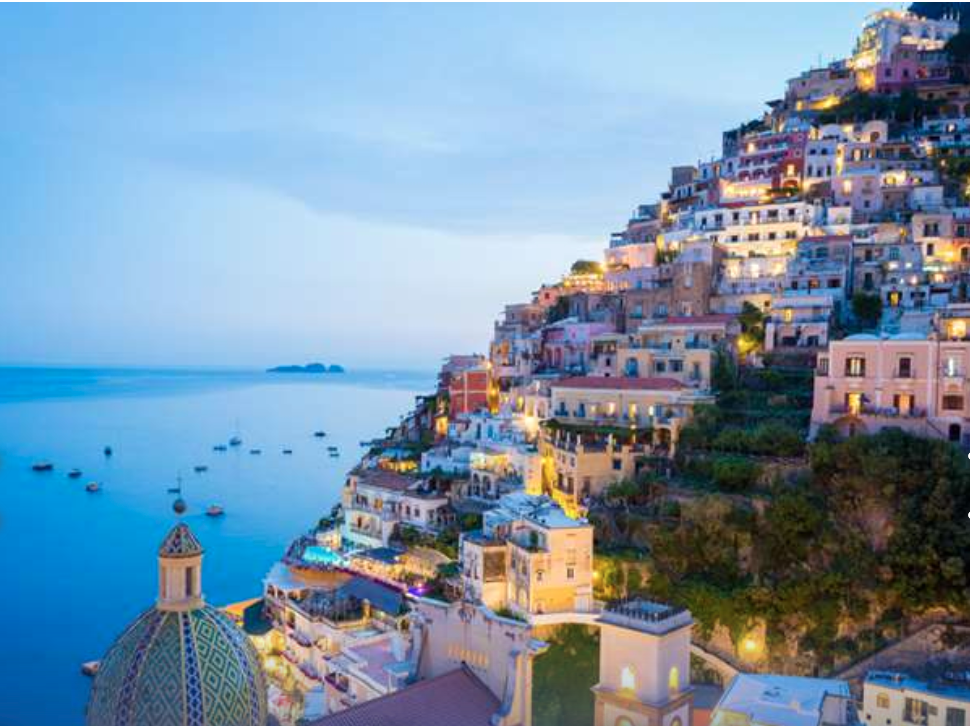 Coach holidays to the Amalfi Coast
For a coach holiday break oozing style and sophistication, choose Italy's Amalfi Coast. The coastline is one of the most picturesque coastal regions in the world, where villages grip precariously to soaring cliffs, only interrupted by pretty bays and sandy beaches where you can take a dip in clear blue seas. From attractive Amalfi and exquisite Positano to fashionable Capri – discover this glorious region of southern Italy and create holiday memories to cherish forever.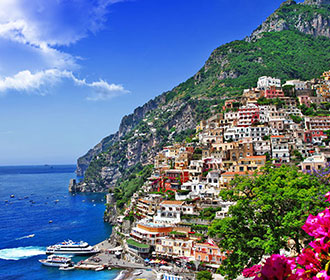 10 Days from just £844 pp
Departures: June - September
7 nights at selected 4-star hotels in Italy with breakfast plus 6 dinners
Guided scenic drive along the Amalfi Coast
En-route visit to Rome
Fully escorted by a tour manager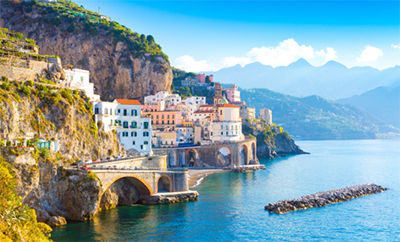 Cascading down a steep hillside overlooking the Bay of Naples and mighty Mount Vesuvius, Sorrento is the gateway to the delights of the Amalfi Coast. Away from the bustling warren of twisting narrow streets that make up Sorrento's picturesque old town, we'll take to the sparkling waters to explore the fabled towns along the iconic Amalfi coast, including Positano and Amalfi. You'll also have the chance to roam the lemon-tree clad hills and visit the limestone island of Capri.
8 days from £1,499pp
Tour Includes Flights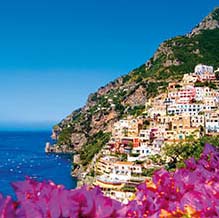 Pastel-shaded villages perched on a winding coast overlooking the azure sea - it's this picture-postcard scenery that makes this region so special.
8 days from £1,349
Tour Includes Flights
Book Your Amalfi Coast Coach Break Online Today