Game of Thrones Studios Tours 2022/2023
Are you ready to be transported behind the scenes of The Seven Kingdoms and find out how one of the most iconic fantasy novel series was transformed for the screen to become one of the best-loved television shows on the planet? Well, now is your chance! Kings and queens, knights and renegades, gentle maidens and faceless assassins are invited to join our four-day adventure to Northern Ireland to discover the brand-new Game of Thrones Studio Tour, along with our GOT filming locations coach tour, an excursion to the Giant's Causeway and even free time to discover the best of Belfast. You don't need to be a Three-Eyed Raven to see that this break is set to be one of our most popular getaways of the year – book today!
Game of Thrones Studios Coach Holidays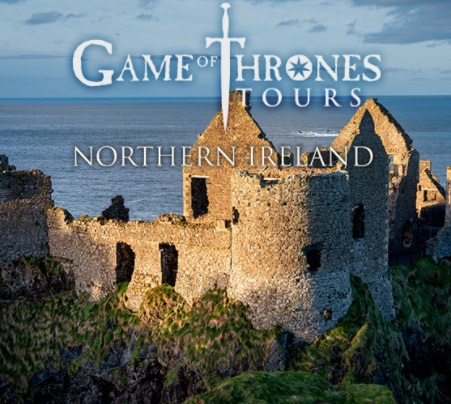 Located at the authentic filming location of Linen Mill Studios in Banbridge, Northern Ireland, 'Game of Thrones Studio Tour' welcomes visitors into the Seven Kingdoms and beyond to explore the making of all eight seasons of HBO's global hit series. Step onto original sets, including the iconic Great Hall at Winterfell where Jon Snow was proclaimed the "King in the North," and view genuine set pieces including Daenerys Targaryen's imposing Dragonstone throne. 

Book Your Game of Thrones Coach Break Online Today