Special Interest & Event Breaks 2019/2020
Our special interest and event breaks include some of our most popular tours for 2019. We've got a fantastic collection and a great range of options to discover some of the most intriguing and fascinating festivals and occasions in the UK and Europe. From sporting spectaculars to beautiful flower shows, there's something to suit all tastes.
It's time for something truly unforgettable. In our Live Events range, you have access to the biggest and best events that Europe has to offer. Enjoy the colourful culture among the waterways at the Venice Carnival, or be serenaded in the sun at Andrea Bocelli's annual event in Tuscany. All this and more is waiting just for you when you book a tour.
Our event breaks will pique your interest whether you're into music, theatre, sport or many other passions on tours across the UK and Europe throughout the year.
From music performances featuring favourites such as André Rieu, Daniel O'Donnell and Jane McDonald to world-class sport at the Grand Prix. You can see Britain's best countryside in a different light at top flower shows or live the storyline of your favourite TV shows on our As Seen on TV coach tours.
Event Coach Holidays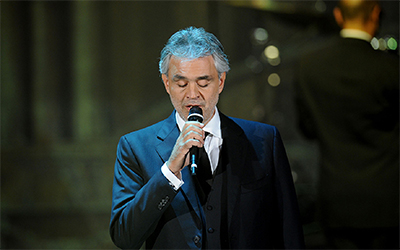 Andrea Bocelli in Tuscany
12 Days From £1,499
Join us for a spectacular summer evening and watch as the Tuscan hills of Lajatico are brought to life, as Andrea Bocelli returns to his home town, with an abundance of famous guests, to provide an evening of moving music at the amazing outdoor 'Theatre of Silence'.
Paris Air Show
4 Days From £329
Enjoy the world's largest air show in Paris. See the impressive flying displays and exhibitions showing everything from air craft assembly to cabin interiors and even airborn equipment and systems.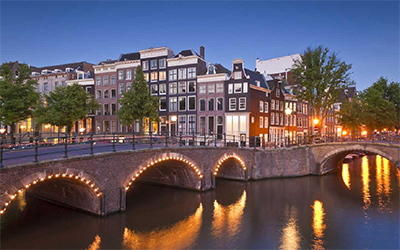 Amsterdam Festive Season & Light Festival
4 Days From £349
The Netherlands shine bright in the build up to Christmas! Join us as we travel by coach to the cosmopolitan city of Amsterdam on this sparkling festive holiday.
Event Breaks
Join a tour to one of the top flower shows across the UK between April and August. This includes the world famous Chelsea Flower Show and other large RHS and independent shows including Harrogate and Southport.


Enjoy a tour between April 2019 and August 2020, with itineraries travelling some of the most famous and scenic railways. Discover the Alps on the Glacier Express or the North York Moors on the Esk Valley Line.


Battlefield tours offer a way to pay your respects to the soldiers from both sides and learn the history of both World War One and Two in Northern France and Belgium. 5 and 6 day tours depart between May and October.


The Dutch Bulbfields are a horticulturalist dream, millions of Tulips come into bloom in a myriad of fantastic colours. You'll visit the magnificent Keukenhof Gardens and various Dutch and Belgian cities on each tour.


See the country's most popular and acclaimed productions! Whether you want Dirty Dancing in Bournemouth, or Kinky Boots in Blackpool we have many options of shows and resorts available.


The greatest show on turf returns in April and there's still time to join tours to the big race at Aintree. These tours include entry to the course on Grand National day, return travel and accommodation.

Book Your Event Coach Break Online Today