Croatia Coach Breaks 2020/2021
One of Europe's up and coming destinations, Croatia is charming visitors from all over the world and for good reason.
With crystal clear seas, the undisturbed beauty of its historic towns and its glorious Mediterranean culture. There's plenty to enjoy, you can venture to the traditional town of Dubrovnik, experience the buzz of the capital city of Zagreb or relax along the Dalmatian coast. From the the 2000km of idyllic coastline and beyond, it really does offer the whole package.
You did know Mamma Mia 2 was filmed in Croatia, right? Well, my, my, how could we resist sharing this fascinating destination with you. This Mediterranean country is charming visitors from all over the world and for good reason. With crystal clear waters, undisturbed beauty, historic towns and its glorious culture, there's just so much to experience.
Top Croatia Holiday Deals
Croatia's Istrian Charms
Join us for a relaxing holiday in quaint Tar, set on a green peninsula on the western coast of Croatia, overlooking the Adriatic Sea. Staying in a beautiful hotel, you can relax by day and enjoy the facilities, and enjoy selected drinks included with dinner in the evening.
9 Days departing:
May & June
FROM ONLY £463PP
Croatian Coast - All Inclusive
Staying on Croatia's beautiful Istrian Peninsula, we explore the hidden delights, historic towns and scenic shores of this wonderful region, as well as enjoying a great value inclusive package during our stay. We'll make the most of our time away as well, travelling overnight to reach our destination.
9 Days departing:
May - Oct
FROM ONLY £466PP
Croatia Coach Holidays
14 Days From £1589
Croatia's stunning Dalmatian and Istrian Coast and the crystal blue waters of the Adriatic provide the perfect backdrop to this tour, which also visits neighbouring Montenegro.
Tales of the Balkan Peninsula
16 Days From £1,949
Immerse yourself in the history of the wonderful Balkan Peninsula, a land of magnificent contrast.
Porec & the Istrian Riviera
9-12 Days From £769
Join us on a holiday to Croatia's golden peninsula. From your base at the 4-star Valamar Crystal, we take you on a tour of some of the country's most celebrated sights, from amazing architecture to stunning coastlines.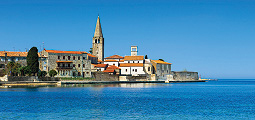 Croatia is increasing in popularity as a coach holiday destination, as more and more holiday-makers choose to discover the once-hidden delights of Eastern Europe – and with good reason! An area of breathtaking natural beauty, with crystal-clear waters and beautiful sandy beaches, Croatia is simply stunning.
Prices from £509pp

Book Your Coach Break Online Today