Loch Lomond Coach Breaks 2022/2023
With glittering waters and majestic peaks, the unique beauty of Loch Lomond draws visitors year after year, to take in the breathtaking views. Situated in the Loch Lomond and the Trossachs National Park, it offers something for everyone, from the vast array of water sports to its many picturesque towns and villages.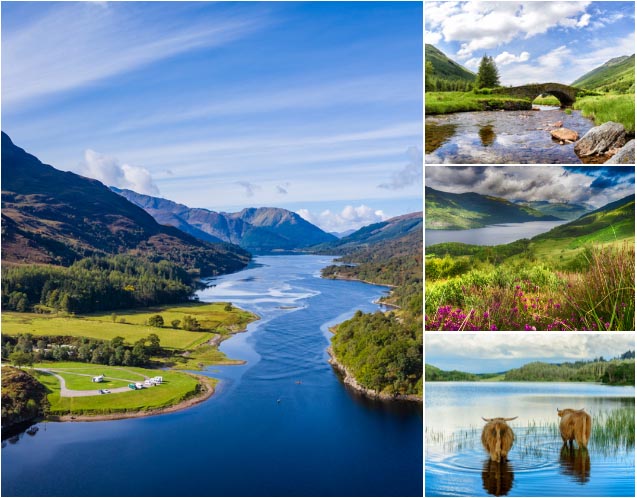 Loch Lomond and the Trossachs National Park
Marvel at the beautiful Trossachs, with wooded glens and stunning flora, and take in the stunning sights, sandy coves and delightful bays of Loch Lomond. A favourite destination of Queen Victoria, this captivating region showcases the very best of beautiful Scotland.
Callander
The small town of Callander serves as the gateway to Loch Lomond and the Trossachs National Park and is set beneath high, wooded crags. Enjoy a stroll through this lovely little town, stopping to discover the tea rooms and souvenir shops, and admire the stunning surrounding scenery.
Luss
The picture-postcard, conservation village of Luss is located on the western shore of Loch Lomond and has a rich history dating back to medieval times. Head to the end of the pier to enjoy the spectacular view of Ben Lomond or choose from a range of short walking trails which explore the village.
Aberfoyle
Set on the banks of the River Forth, Aberfoyle is another lovely village in Loch Lomond and the Trossachs National Park with glorious views in every direction and a range of cafés and shops. The town is known for its distinct Victorian architecture and its intriguing mysteries, such as the disappearance of Aberfoyle's minister Robert Kirk after the publication of his famous book, The Secret Commonwealth of Elves and Fairies, in 1691.
Loch Achray
Loch Achray is one of the smallest lochs in Loch Lomond and the Trossachs National Park and is popular with photographers due to its sheltered locations. The remarkably calm conditions often allow for stunning reflection shots of the woodland surrounding the loch.
Loch Venachar
Lying between Callender and Aberfoyle, the shimmering freshwater Loch Venachar stretches for 11km. The Loch hosts regular sailing events and on the south shore stands Invertrossachs House, once visited by Queen Victoria.
Loch Lomond Coach Holidays
Book Your Loch Lomond Coach Break Online Today