Silver Service
On most of our holidays you can upgrade to Silver Service, luxury coach travel, for comfort and style across Europe.
A new experience in coaching comfort that everybody's talking about... Imagine combining the comfort of your armchair

with a journey through Europe. Well Silver Service comes pretty close! Most coaches have 48 seats. Our Silver Service coaches have 36, giving you blissful extra legroom. With leather headrests, footrests, a magazine pocket, drop-down table - and even a personal audio headphone system - each luxury seat can be reclined, for even greater comfort! Cruise in total comfort as you gaze through the tinted, double-glazed windows at Europe's most breathtaking scenery. Fully air-conditioned and temperature controlled, you'll be forgiven for nodding off from time to time.

Relax

Each coach also has satellite navigation display, so you can watch your journey's progress. But wait until you visit the back of the coach. There's a separate lounge area with luxury leather seats with seatbelts and a low-height table - the perfect place to read, chat or sim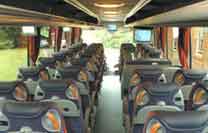 ply relax..

Extra Comfort

There's a toilet/washroom on board, a refrigerator and a servery unit from which you can be served a hot drink to enjoy while you take in a video or DVD, or listen to a tune being played on the coach's radio, CD or tape player - what a choice! And the individual headphones will ensure those who wish to enjoy the peace and quiet aren't interrupted!

Even More Availability

'Silver Service' luxury coach travel has been such a success since we introduced it in 2003, with many tours selling out ea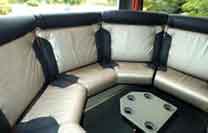 rly, so we reccommend prompt booking to secure your place. Which holidays offer Silver Service coaches? You'll find them on pages marked with the special Silver Service logo.

Travel in Style

The difference for an upgrade to Silver Service is from as little as £16 per person. Last year many of our Silver Service departures sold out very quickly so be sure to make your reservation early to guarantee your place this year.